HowToTellYourChild is an education project under Yashram Foundation and Yashram Foundation is registered as:
Non Government Organisation  with registration number: 110696
Engagement in Government School
53% That's The Percentage Of Our Country's Children Who Are Sexually Abused.
That Is Every Second Child You See..!
It costs us ₹200 to empower the adult caregivers and stakeholders who are responsible for children's wellbeing and safety.
Donate now to help prevent child sexual abuse
Safety kit
Our safety kit includes fun, easy and non-scary books, CD of amazing video of Ms P, real safety shield and an awesome certificate for completing the safety lessons and the safety quiz to be earned at the end of safety journey.
Child Safety kit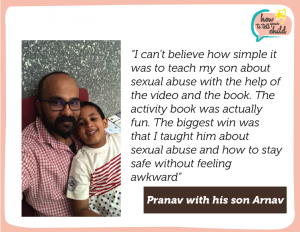 When is it too early to start talking to your child about Child Sexual Abuse? Apparently never! The only way to protect children is by educating them. The challenge is on how to do it without scaring them. Ms P, the dragon has the answers. This simple and fun workbook allows the parents and children to have non awkward and fun conversation about child sexual abuse.
Help us to reach out the children across the world to take them through the safety journey.  It cost us ₹250 for the production of each book. Your donation will help us spread these easy, non-threatening ways to learn about child sexual abuse.